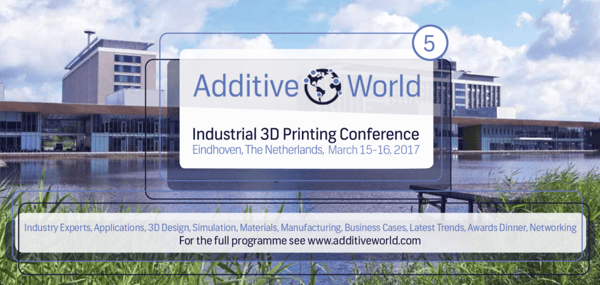 For the 5th time we are organising our annual Additive World Conference in Eindhoven, the Netherlands. Many renown experts are going to share their vision, knowledge and practical experiences on industrial 3D printing, during this edition. Due to large interest in the 5th edition of the Conference, the deadline has been postponed up to and including Wednesday the 22nd of February! You can still take advantage of the discounts and save up to EUR 125, - on registration fees for the Additive World Conference, please go to the Additive World website and register with the code AI05.
Learn the latest AM technology and applications
This year we will return to the Eindhoven High Tech Campus on March 15. On this 1st day of the Conference, the focus will be again on Technology and Applications. Topics which are going to be discussed will cover the complete additive manufacturing value chain like design for additive manufacturing, materials, equipment, post processing and the best business cases. The first day of the Conference will be closed by the Additive World Awards dinner.
Get a unique view inside Additive Industries
The 2nd day of the Conference allows you to have an exclusive view 'Inside Additive Industries' (March 16). Additive Industries will open their doors and shares 'what's cooking in their Labs'. Besides sharing their vision on the future, the participants will get a 'live' demonstration of the MetalFAB1, the first industrial metal 3D printing system for series production