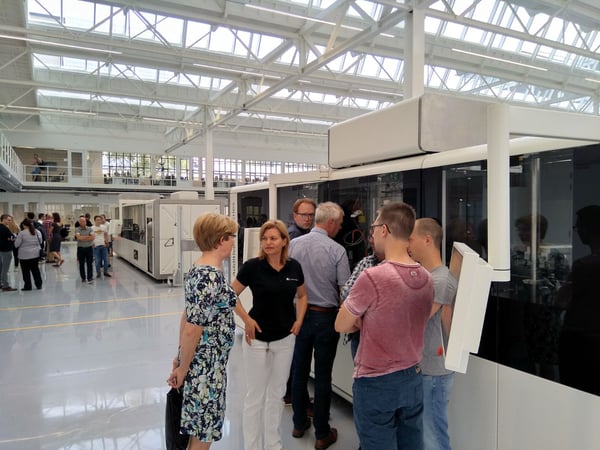 On June 9, 2018, from 11am to 4pm, during the Dutch Technology Week in Eindhoven, we opened the doors of our new factory for the broader public and it was a big success.
The visitors were able to meet our enthusiastic team members, who shared our vision, ambition and all the newest developments. We were more than happy to show our pride, the MetalFAB1 the first industrial metal 3D printing system for series production, printing 'live'. We received many enthousiastic questions on our technology, future development plans and our commercial and technical job openings, since we are accelerating in our growth, in order to reach a Top 3 position in 2022, as the productivity leader in metal additive manufacturing.
Additive Industries is accelerating industrial additive manufacturing by offering a modular 3D printing system and seamlessly integrated information platform to high-end and demanding industrial markets. With substantially improved reproducibility, productivity, and flexibility, Additive Industries redefines the business case for additive manufacturing applications in aerospace, automotive, medical technology and high-tech equipment. Additive Industries is a young, fast developing company. We have developed a strong pragmatic team mentality in which we work and experiment together to achieve common goals. Highly experienced engineers from the diverse high-tech equipment ecosystem around Eindhoven are complemented with a broad range of other professionals. We are constantly looking for the enthusiastic, "fun to work with" team players.
Since this event has been a great success for us, we will definitely open our doors again next year. We look forward to seeing you again and meeting new people!